[Home] [About Us] [News] [Products] [Ordering] [How It Works] [Directions-Pack] [Soil App's] [Display Photos] [Technical Spec's] [FAQ'S] [MSDS] [Resources] [Link Trading]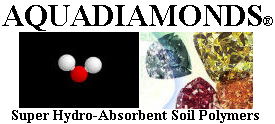 Below, is a list of projects with start to finish directions!
Dear customers,
We are building this section of the Aquadiamonds Web Site to provide you with, "step by step" directions for constructing decorative projects with Aquadiamonds. We are currently adding approximately one project per month.
This is your section. We welcome your questions, ideas and input. If you have a use for Aquadiamonds, and don't see it here, or just a great decorative project that you've done, email us at, ideas@aquadiamonds.com . Please be sure to include; project directions, photography, your name and where you live. If we like it, we will publish your project or idea on this web site and give you due credit for it!
Click on an underlined title
["Aloe Vera Mix"] ["Avocado Plant"] ["Bamboo Plant"]
["Coke 12 OZ." ] ["Neck Coolers"] ["Pathos With Shells"] ["Philodendron"]
[Home] [About Us] [News] [Products] [Ordering] [How It Works] [Directions-Pack] [Soil App's] [Display Photos] [Technical Spec's] [FAQ'S] [MSDS] [Resources] [Link Trading]