[Home] [News] [Products] [Ordering] [How It Works] [Directions-Pack] [Soil App's] [Display Photos] [Technical Spec's] [FAQ'S] [MSDS] [Projects] [Resources] [Link Trading]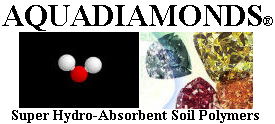 Aquadiamonds was born in New Orleans, Louisiana in March of 1999. From our humble beginnings, we have based our company on two constants: Quality and Service. We believe that you are only as good as the satisfaction of your last customer, and strive to prove that, each and every day.
Our intention is to provide you the best Soil Polymers available, at the lowest prices that we can vend, while continuing to find new and innovative uses that we'll publish here on this web site. We welcome all comments, ideas, testimonials and encourage our customers to contact us with their thoughts about our product, product uses and web site.
Aquadiamonds can supply you with as little as 3.75 OZ. (5 packs) to 500 metric tons of any of our 3 particle grades of soil polymers, and do it in an expedient and efficient manner. Try us and you won't be dissappointed!
Through experimentation, investigation and the testimonials of valued customers we endeavored to learn all of our product's uses. Soon afterwards we realized that that would never happen as people were coming up with new uses every day!
If you have a use for Aquadiamonds, and don't see it here, or just a great decorative project that you've done, email us at, ideas@aquadiamonds.com . Please be sure to include; project directions, photography, your name and where you live. We will publish your project or idea on this web site and give you due credit for it!
If you're interested in a link exchange with Aquadiamonds please visit our "Link Trading" page.
Best wishes,
Mark Zehring
[Home] [News] [Products] [Ordering] [How It Works] [Directions-Pack] [Soil App's] [Display Photos] [Technical Spec's] [FAQ'S] [MSDS] [Projects] [Resources] [Link Trading]