[Home] [About Us] [News] [Products] [Ordering] [How It Works] [Soil App's] [Display Photos] [Technical Spec's] [FAQ'S] [MSDS] [Projects] [Resources] [Link Trading]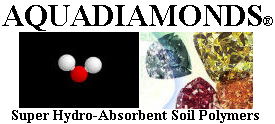 AQUADIAMONDS®
Pack Directions for Use
Soak (1) pkg. of "Aquadiamonds ®" in 5 quarts of water for 12 hrs. *(If your tap water is chlorinated use spring or filtered water). Drain crystals in a colander for 1/2 hr. or more.
NOTE: 1 pack Aquadiamonds ®, (2-1/2 tbs), yields a little over 1 gallon of hydrated crystals after draining. You may make as much or as little of this as you like. Just treat it as a recipe.
(Example: 1/2 pkg Aquadiamonds ® soaked in 2-1/2 quarts of water yields a little over 1/2 gallon of hydrated crystals.)
For a decorative touch add food coloring then toss gently. (After you have your hydrated crystals set up in one or more vases, use an empty mixing bowl to add, and or, blend your food coloring. You then dump the contents of the vase into the bowl, toss it like a salad for 30 sec.'s or so, then return it to the vase.)
See exact directions for coloring and decorative ideas on our "Projects" page!
To clean or remove color from crystals, rinse well in a colander with tap water. (Removing the color will only work completely, shortly after you originally colored them.)
Add *water every 20-45 days. Do not add plant food directly to this product, as it will spoil it and may kill your plants. (You can tell when it is time to add water. The level of the crystals, in your container, shrinks. If it travels a distance of 1 inch downward in your container, add the amount of water you think would fill the space left after it receded and stop. Your crystals will soak up the water within (12) min.'s. and regain their original level).
You can: germinate seeds, force bulbs, sprout and grow cuttings, transplant from soil and mix with potting soil for water management. (For potted plants you may mix between 20% - 50% pre-hydrated crystals with 80% - 50% soil, sand or Cactus Mix. That can cut down waterings to between 4 and 6 weeks when needed). This means that if a plant requires frequent watering, you'll want to be using closer to 50% pre-hydrated crystals, to 50% soil, sand or mulch, bearing in mind that you will be leaving 2" of un-mixed soil on the top of your container. (We don't want our plant roots exposing themselves to the sun, while looking for water!) If you'd rather try your luck at, "Dry Mixing", click on the red text, below, and scroll down to the "Bulk Mixing Container Chart."
For, "Transplanting, Flower Beds & Ornamental Gardens and Turf or Sod ding and Bulk Mixing" (Click Here) or, (You may also refer to the "Tech. Spec.'s" page of this website for more information.)
"Aquadiamonds ®" not only hold cut flowers, it also extends their life. (Be careful with roses and some other flowers as they need extra water. This just means that you'll add enough water back to your vase so it covers the bottom of your cutting.)
"Aquadiamonds ®" are a colorless, odorless tasteless, non-toxic anionic copolymer of polyacrylamide. (Do not leave hydrated crystals in direct sunlight) This product works best with low light plants, that like a little extra moisture
.
If you're interested in a link exchange with Aquadiamonds please visit our "Link Trading" page.
[Home] [About Us] [News] [Products] [Ordering] [How It Works] [Soil App's] [Display Photos] [Technical Spec's] [FAQ'S] [MSDS] [Projects] [Resources] [Link Trading]